How to Source for Vape Kits from Electronic Cigarette Manufacturer in China
Are you planning to source for vape kits from China?
Well, the answer is straightforward; you need to buy these accessories from a reputable and trusted electronic cigarette manufacturer in China. This is because this industry doesn't have proper legislations in place, thus, a possibility of buying a low quality product.
It doesn't matter whether you need electronic cigarettes for personal use or OEM/ODM business.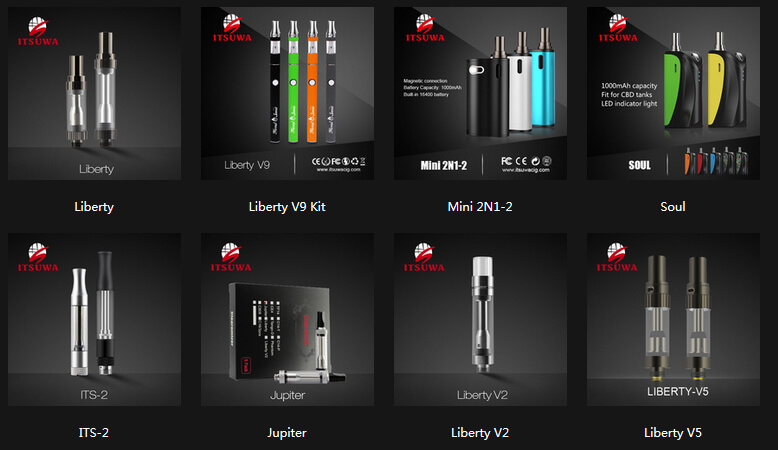 These are different types of electronic cigarettes manufactured by Shenzhen Itsuwa Electron Co., Limited
Currently, China is the world's leader in designing and manufacturing electronic cigarettes. In Shenzhen, China, you'll find many small companies that manufacture vape kits without considering the required safety measures.
In most cases, the companies tend to imitate the reputable brands, which they sell at a relatively low price. These are the so called "cheap vape kits" or "cheap electronic cigarettes".
For instance, you'll find some vape mods that retail at nearly half the factory price. You have to be careful when it comes to this since that will be a counterfeit product.
Normally, I don't recommend sourcing for vape kits from online marketplaces, unless you'll be dealing with the authorized dealer. One mistake that most people do is going straight to the internet look for available products.
With that, you're likely to get a low quality electronic cigarette. It doesn't matter whether you use:
"Vape kits" + "China"
"Vape kits" + "Chinese suppliers"
"Electronic cigarette manufacturers in China"
Here is the search result: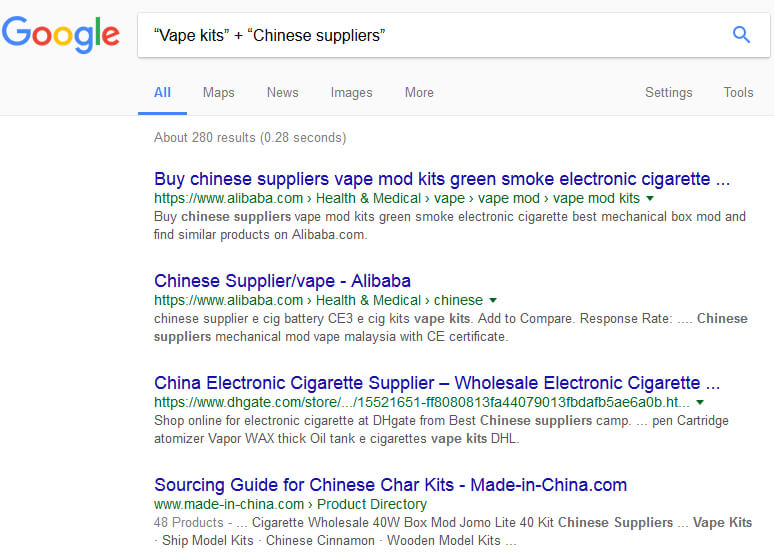 Google search result (you can use any search engine of choice such)
Clearly, most of the search results are online market places.
Factors to Consider When Sourcing for Electronic Cigarettes from China
So, whenever you're sourcing for electronic cigarettes, it is important to consider the following aspects:
Strict quality procedures that conform to international standards
Quality control is an important aspect here. For instance, Itsuwa vape mods meet the CE, RoHS, MSDS and EMC standards. Basically, this is good news and it implies that:
RoHS certified vape kit does not contain hazardous substances that may make this electronic device unsafe.
CE certification implies the e-cigarette meets the stringent measures for producing low wattage electronic devices
Depending on the geographical location, there are certain quality criteria that an electronic cigarette should meet. For instance, before you source for electronic cigarettes to sell in the North American market, they should meet the standard set by the UL.
In short, quality verification and certification should form the foundation of choosing a suitable company for this task.  This is a critical aspect whenever you're considering the authenticity of the vape kits.
Furthermore, you need to confirm the legal existence of the company. Companies that are legally authorized to operate in China to manufacturer electronic cigarettes adhere to current good manufacturing practice (cGMP), as stipulated by the FDA.
What Options are Available?
This is a critical aspect, especially if you want to start an e-cig or vape mods for an OEM/ODM business. Remember, you'll have clients with different tastes and requirements in-terms of electronic cigarette design or e-liquid.
So, approaching a company with a range of electronic cigarette designs will make some business sense. This is because you'll seize all possible opportunities that come your way.
In short, whenever you want to source for vape kits from China, don't depend solely on the search results from the internet. You need to focus on understanding the legal existence of the manufacturer, quality compliance, cost and availability of many electronic cigarette design options.