CBD vs. THC E-Liquid Comparison: Here's Everything You Must Know First
If you are new to vaping, this is one aspect that may seem really confusing.
This is why I think it is clear to give an in-depth comparison between CBD and THC e-liquid.
But before that, I want you to understand the following:
In this context, CBD refers to cannabidiol while THC is simply the tetrahydrocannabinol. These are all chemical compounds present in the cannabis plant.
Normally, the difference between these two depends on how they interact with our endocannabinoid system. I will explain more about this shortly.
Over the years, there have been a number of studies exploring the ratio spectrum of CBD and THC chemical constituents in cannabis plants. Where it is evident that the quantities of these chemical constituents vary depending on the marijuana strain.
Therefore, before you buy CBD or THC e-liquid, it is important to have accurate information about their basic composition.
Now let's compare the two so that you may learn more about these cannabinoids.
CBD vs. THC E-Liquid
Here are some important aspects you need to know:
·         Chemical Formula & Structure
This is one significant aspect that differentiates these two chemical compounds in marijuana.
First, the chemical structure of THC is:

Second, the chemical structure of the CBD is: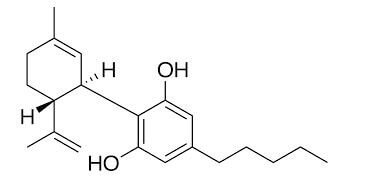 From this alone, it is quite clear that the two chemical compounds have different effects. This is actually evident from their unique structure.
So, this is the first thing you need to know when buying CBD e-liquid or THC e-liquid.
Now, let's go a step further and focus on specific effects of these two CBD and THC compounds in marijuana strains.
·         Psychoactive Component
The tetrahydrocannabinol (THC) is known for its psychoactive ingredient. Implying that, it is the THC that will make you feel high.
On the other hand, cannabidiol (CBD) does not have psychoactive effects. Basically, you cannot get high when using CBD e-liquid.
This explains the reason why people who vape THC e-liquid will always feel high.
·         THC E-Liquid Causes Anxiety, Unlike the CBD E-Liquid
At times, people who use THC vape pens may feel anxious. In contrary, there are preliminary studies suggesting that CBD reduces anxiety.
It is actually for this reason that a number of manufacturers try to balance these compounds to meet specific needs of vapors.
·         Sleep Inducing Effect
THC is responsible for sleep-inducing effect while CBD is attributed to the wakefulness.
Generally, tetrahydrocannabinol (THC) compound will tend to alter the various condition of the body. These may include sleeping, perception or eating habits.
For instance, some of the main effects of THC include relaxation, fatigue, hunger, reduced aggression or altering the sense of smell, hearing, and sight.
Normally, these feelings may vary among individuals. It is actually the reason why you will find two people using the same THC vape pen, yet they show totally different behaviors.
Remember, the action of tetrahydrocannabinol (THC) depends on how the compound imitates anandamide.
In addition to these, there are a lot of studies still going on, especially in medical fields to establish the benefits of THC.
Apart from the THC e-liquid, some fundamental effects of CBD compound include decreasing anxiety inflammation, relief from both nausea and convulsions.
From above, you can see that the effects of THC e-liquid tend to be the opposite of CBD e-liquid.
Floral Scent is a high-tech and modern CBD hardware that combines Chinese and American technologies. It portrays years of research by Shenzhen Itsuwa Electron Co., Ltd and American CBD liquid expert.
For stylish CBD & THC vaporizers/kits, visit our product section.